My Recipes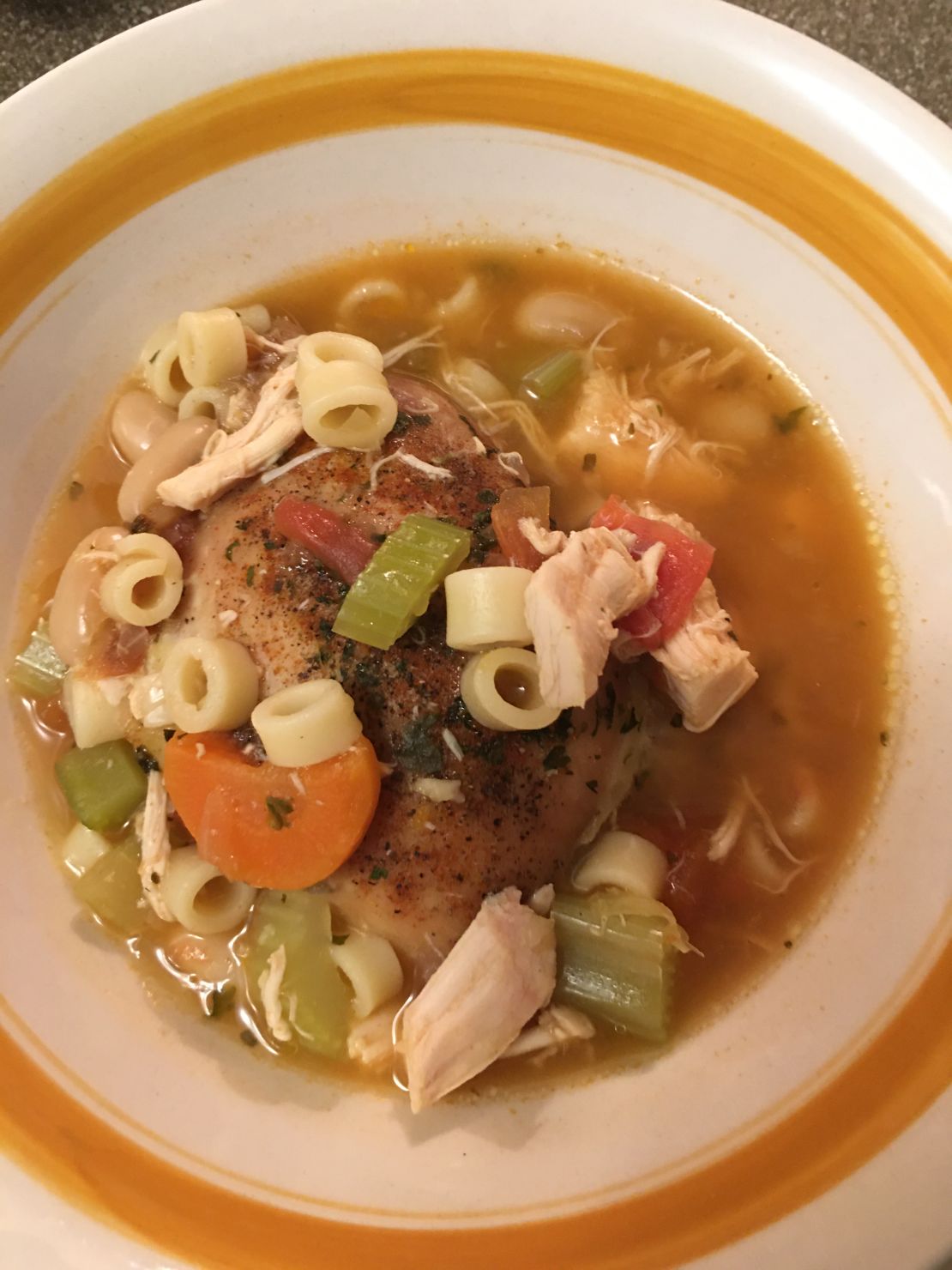 My Signature Chicken Noodle Soup
(Featuring Inspiring Chef: Jamaal Fields)
Ingredients:
3 cups shredded chicken (diced)
1 1/2 cup Ditalini Pasta or pasta of choice
1 can of sliced carrots drained and rinsed
1 can of diced tomatoes w/ basil and garlic
4 celery stalks diced
1/2 white onion diced
1/2 purple onion diced
1 can Canneli Beans
4 1/2 cups water
3 shakes of dry parsley
3 shakes of paprika
3 shakes of pepper
Chicken boullion powder to your tasting
Directions:
In a large dutch oven boil 4 1/2 cups of water. Once the boiling starts add the chicken bouillon. Let the bouillon boil for about 10 minutes then add the diced onions, and celery. When the diced onions and celery start to get soft and more translucent, taste the broth to see if it is at your liking. If not, add what you need at this time, add the Ditalini pasta. Continue to cook all the ingredients until the pasta becomes al dente. Finally add the remaining ingredients, the diced tomatoes, Canneli beans, carrots, diced chicken, parsley, paprika, and pepper. You can add the spices that you prefer to make this soup your own.
____________________________________________________________________________________________________________________________
Momma Y'vonne's Tomato Pie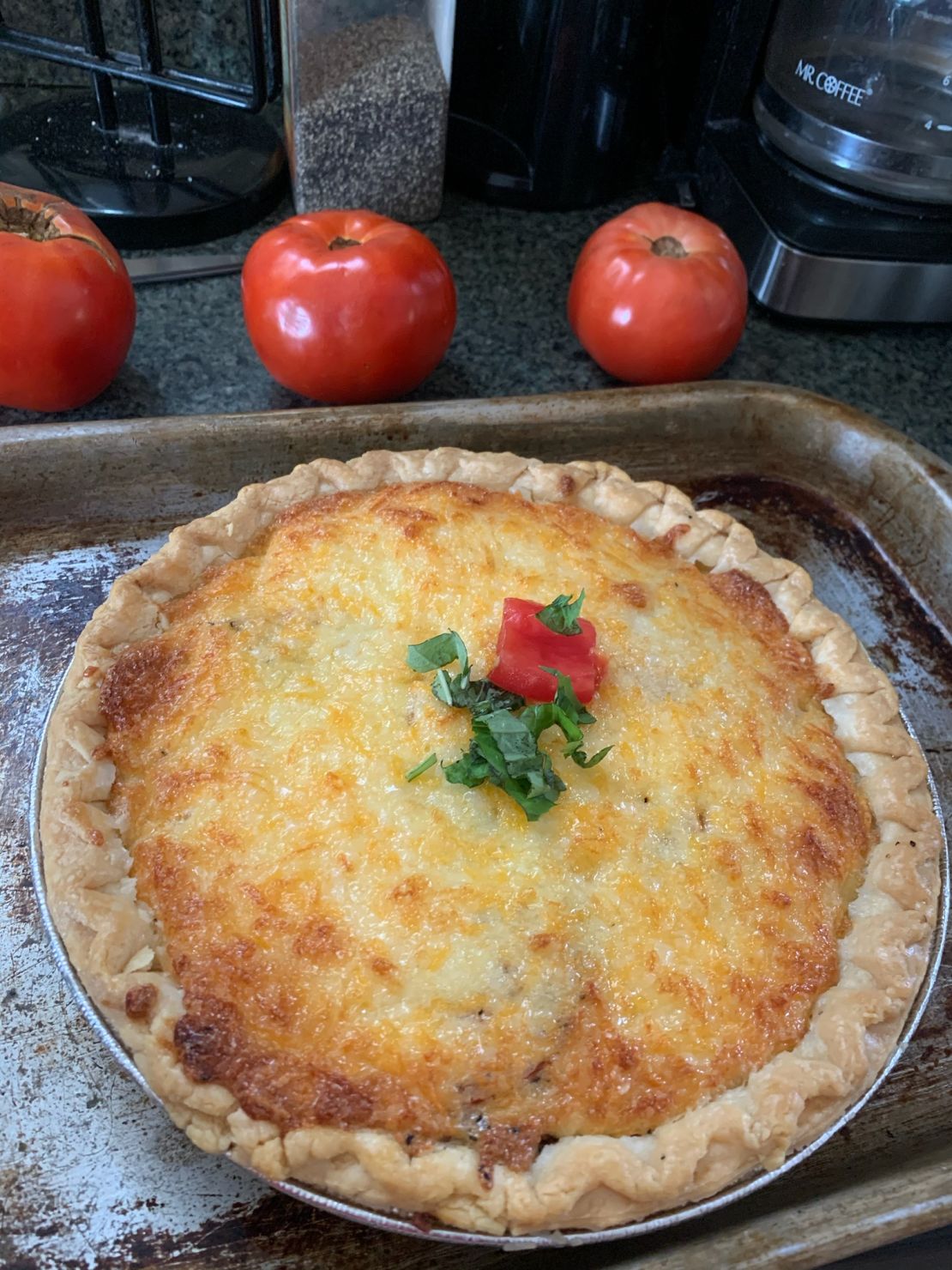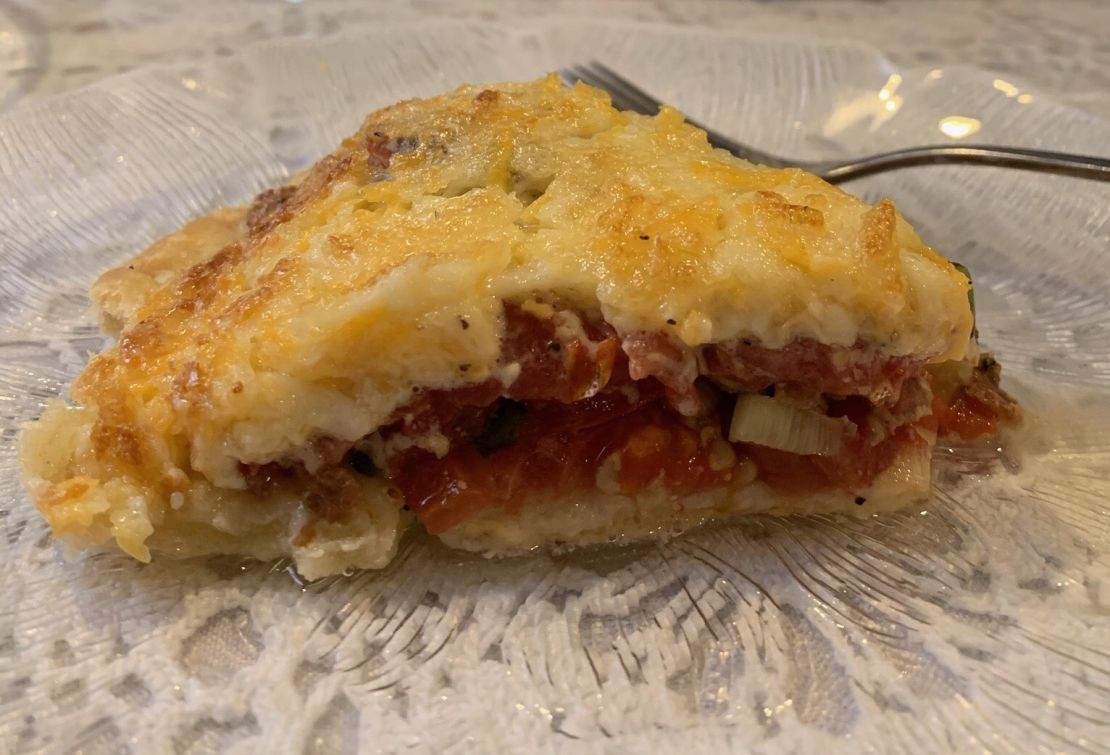 Ingredients:
3-4 Tomatoes
1/2 cup chopped Onions
Fresh Basil
Bacon bits
1 cup grated mozzarella cheese
1 cup grated cheddar
1 cup mayonnaise
1 (9-inch) pre-baked deep dish pie shell
Salt and pepper
*Make the recipe your own, add meat if you like
Directions:
1. Preheat oven to 350 degrees F.
2. Place the tomatoes in a colander or on paper towels in 1 layer to drain them. Sprinkle with salt and allow to drain for 10 minutes.
3. Layer the tomato slices, basil, and onion in pie shell. Season with salt and pepper. Combine the grated cheeses and mayonnaise together. Spread mixture on top of the tomatoes and bake for 30 minutes or until lightly browned.
4. To serve, cut into slices and serve warm.
__________________________________________________________________________________________________________________________________
CHOT'S GARLIC KALE PARMESAN PASTA SALAD
The perfect go to meal when you're in a hurry. You will like this Garlic Parmesan Kale Pasta. Not only is it good, but is filling and flavorful. Enjoy!!!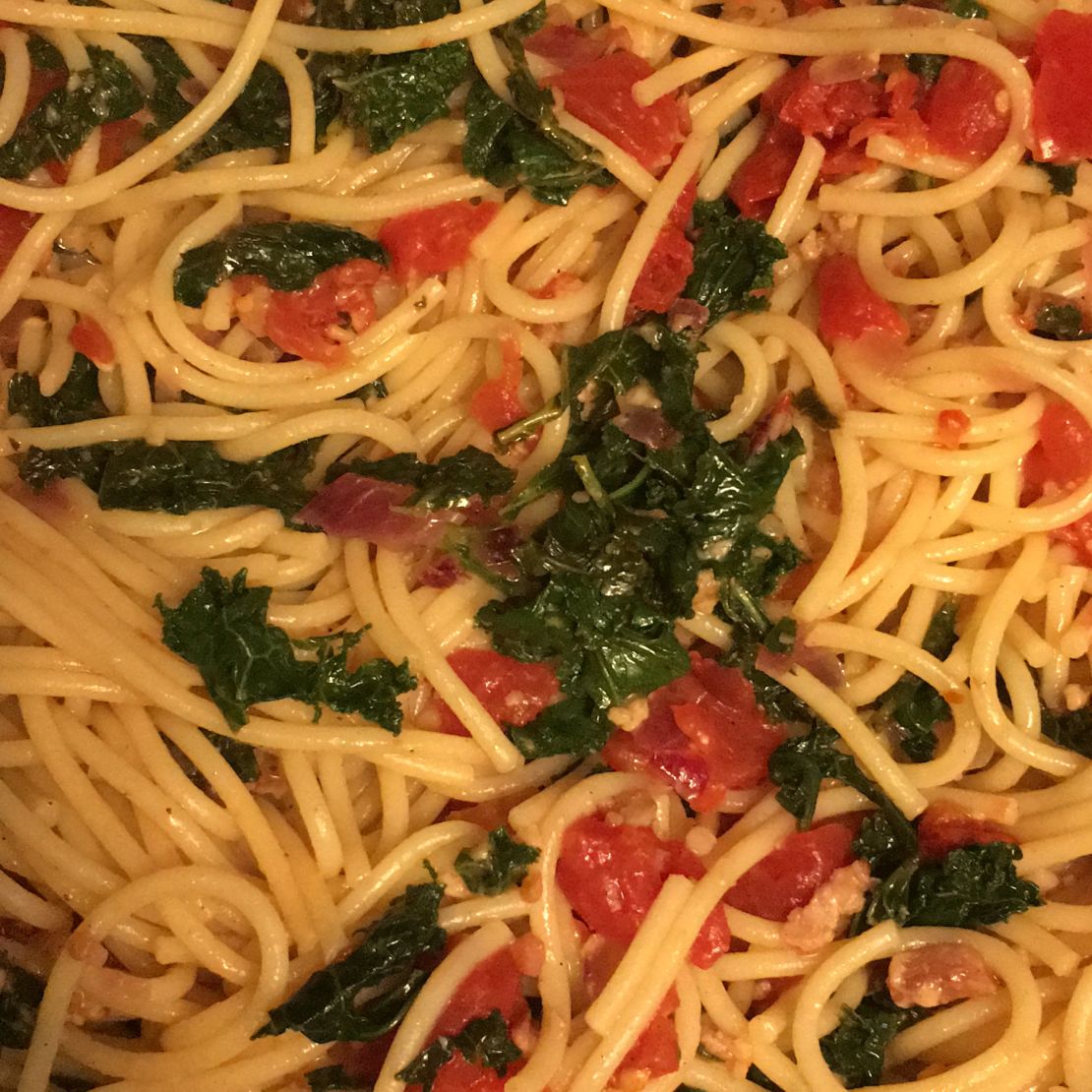 Prep Time: 10 min
Cook Time: 15 mins
Total Time:25 mns
Total Cost: under $5 Serves:4
Ingredients:
1 bunch 1/2 lb kale
1/2 angel hair pasta (I used spaghetti noodles)
2 Tbsp olive oil
2 Tbsp butter
2 cloves garlic, minced
1/2 red onion
1/4 cup grated Parmesan
Pinch salt and pepper
Pinch red pepper flakes
1/4 cup real bacon bits
1 can of diced tomatoes
pinch of Sowful Seasonings Basil
Instructions
Pull the kale leaves from the stems and tear them into small pieces. Rinse the torn kale well in a colander under cool, running water, let it drain.
Bring a large pot of water to a boil. Add broken pasta to boiling water and cook until al dente, drain.
While pasta is cooking, add the olive oil, butter, minced garlic, and red onion to a large pot or skillet. Cook over medium heat for 1-2 minutes. Add the kale and bacon bits and continue to saute' until the kale is wilted. Turn off the heat.
Add the drained pasta to the pot with the kale mixture. Toss the pasta and kale together and allow to cool to where it is warm, but not so hot that the Parmesan melts.
Season the pasta and kale with salt and pepper. Add the grated Parmesan cheese and toss to coat. Add a pinch of red pepper flakes if desired.